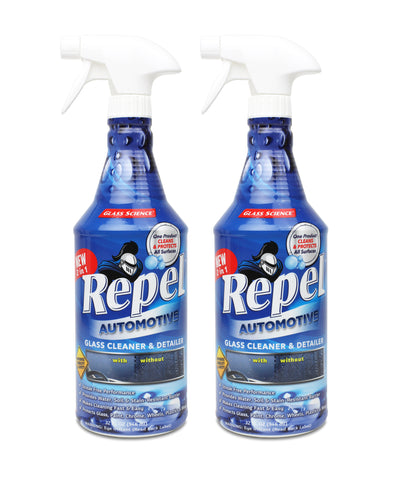 Repel Automotive Glass Cleaner, Protectant & Detailer - (2 bottles) 32 oz- 30103
Cleans & maintains auto glass without streaking or smearing & replenishes a protective coating with each cleaning.
Use Repel on interior & exterior surfaces such as dash boards, leather, vinyl, exterior car wrap, windows, headlights, alloy wheels and more.  Water  based cleaner/coating technology that keeps your car glass & surfaces cleaner longer. 

It is not recommended to apply in direct sunlight, and be cautious of using paper towels with detergent films.  A clean, terry cloth or microfiber towels are recommended for application.
Available in 32 oz spray with trigger.  Spray & wipe technology.  Does not expire.