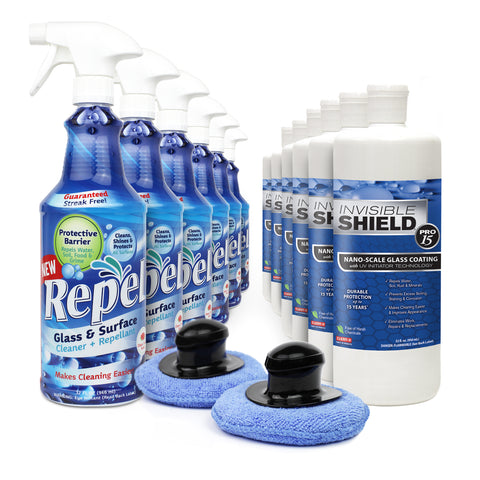 Invisible Shield PRO15 INTRODUCTORY OFFER—LIMITED TIME ONLY!
$600.00 
Seals all glass & glasslike surfaces for ultimate glass protection!
Includes:
 (6) – 32oz bottles of Invisible Shield PRO 15 and  (6) – 32oz bottles of REPEL Glass & Surface Cleaner
Plus, 2 additional value added Polishing Pads!
Invisible Shield PRO 15 is an advanced architectural grade protective coating for all glass, porcelain and ceramics.

Prevents damage to glass such as permanent staining, pitting etching and scratches.
Actively repels water, soil & stains for easier & faster cleaning.
Dramatically improves glass clarity, shine & appearance
Protects against re-soiling & surface degradation
Covers 6000+ sq feet of glass surface