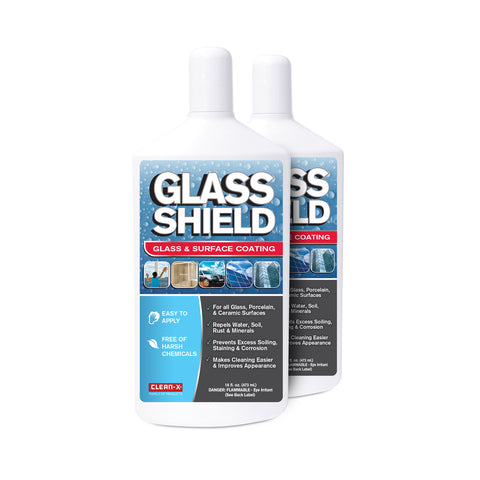 Glass Shield - 16 oz - 2 Pack #29978-2
Seals and protects all glass, porcelain and ceramic surfaces!
Applies long lasting, protective coating that Instantly repels water, soil, and hard water minerals.
Prevents excess soiling and future buildup.
Makes cleaning easier and keeps glass preserved. 
Protective treatment lasts from months to years depending upon use, application, exposure and abrasion of a surface. 
Ideal for larger glass areas to protect and preserve glass against environmental exposure. 
For shower glass, wall tile, mirrors, windshields, solar glass and more.
Will not buildup, crack or discolor. 
Protective coatings are intended to be renewed overtime. 
*2, 16 oz bottles will cover 500+ square feet of glass or ceramic surface