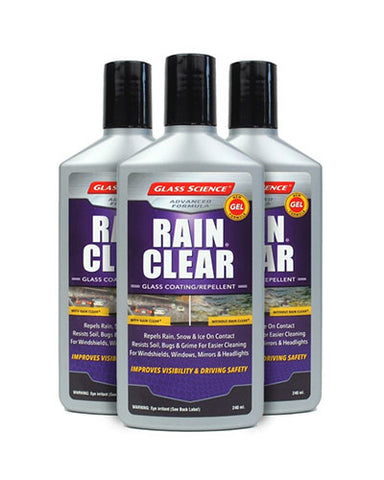 Rain Clear® (Gel) Rain Repellent/Glass Treatment 8 oz - 3 Pack by Glass Science #57865
VOC-Free Gel Formula
Includes three 8 oz Rain Clear 'Gel- Formula' Rain Repellent bottles.
For Improved Visibility & Driving Safety!
Advanced

Rain Clear

Gel formula provides a lasting water, soil & stain repellent coating on all exterior auto glass including windshields, side and rear windows, mirrors & lights for dramatically improved wet weather visibility, safety & driving comfort.
Instantly repels rain, sleet and snow for a clear view of the road.

Rain Clear

dramatically reduces the adhesion & buildup of frost, snow, ice, salt, mud, insects and road grime for easy removal and cleaning.
For perfect car glass and a clear view of the road in any weather use Rain Clear!